Tales From The Ho Chi Minh Trail – River Crossings Xe Bangfai
 Xe Bangfai River Crossing-Khammouane Province
Loaction N17° 29.167′ E105° 41.863′
Updated April 2021.
When I first came to Laos to ride, river crossings were plentiful and mainly by small canoes. Today it's a bit different, many have been forded and many new bridges are being constructed leaving the old bridges to nature.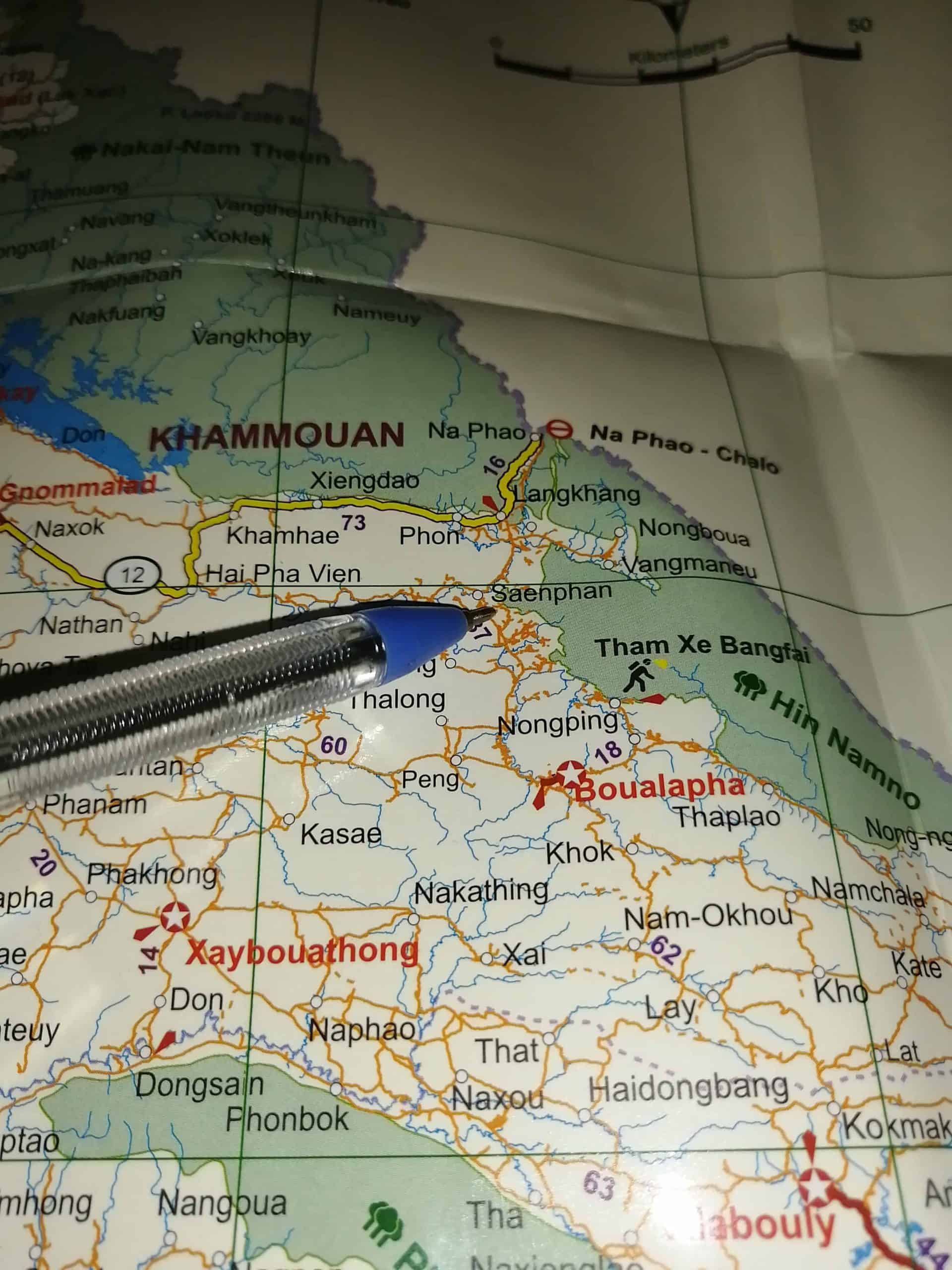 The crossing I talk about here is the Xe Bangfai river crossing. It's about 20 km South of Ban Langkhang which is on route 12 near the Mu Gai Pass part of the Ho Chi Minh Trail. There are 2 big crossings. In the dry season this is no problem, but during the rainy season they become much harder to cross. Ban Saenphan is the first crossing which looked like this in 2010.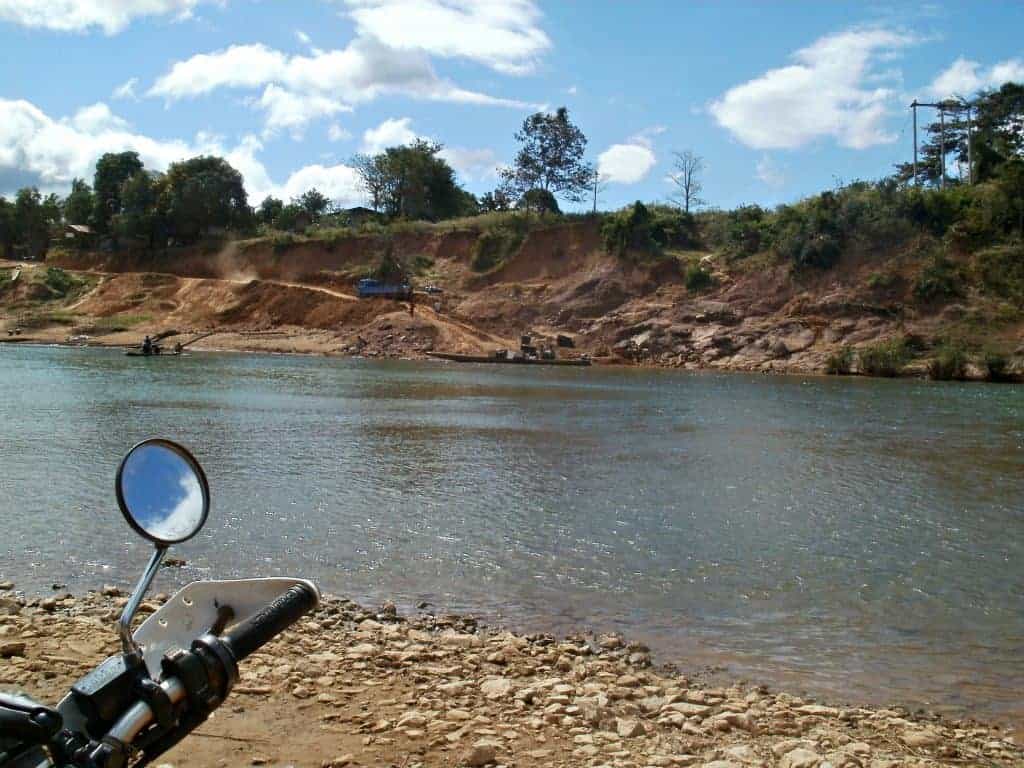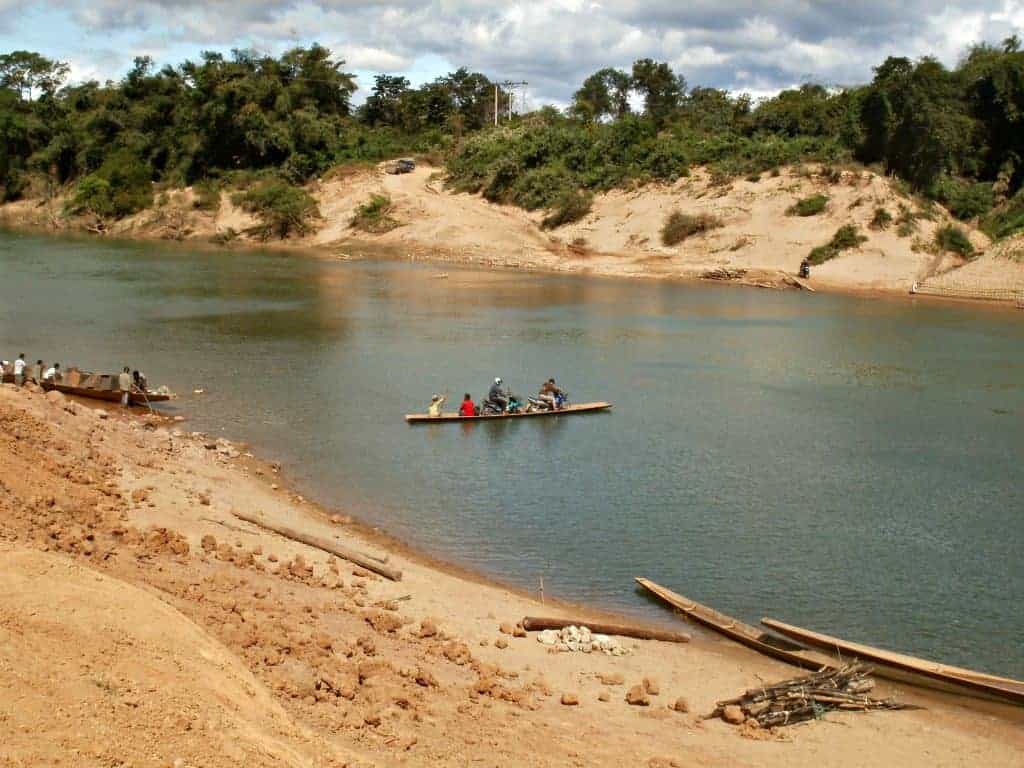 These little boats are not stable when you're on them, they rock from side to side. It is very uncomfortable on a big bike with all your gear on. If you fall in you may not come out alive, especially if the bike snags you. I know of one guy who fell in. He was fine, but it took them 12 hours to retrieve the bike and make it work again. I think it was 2013 when the villagers forded the river.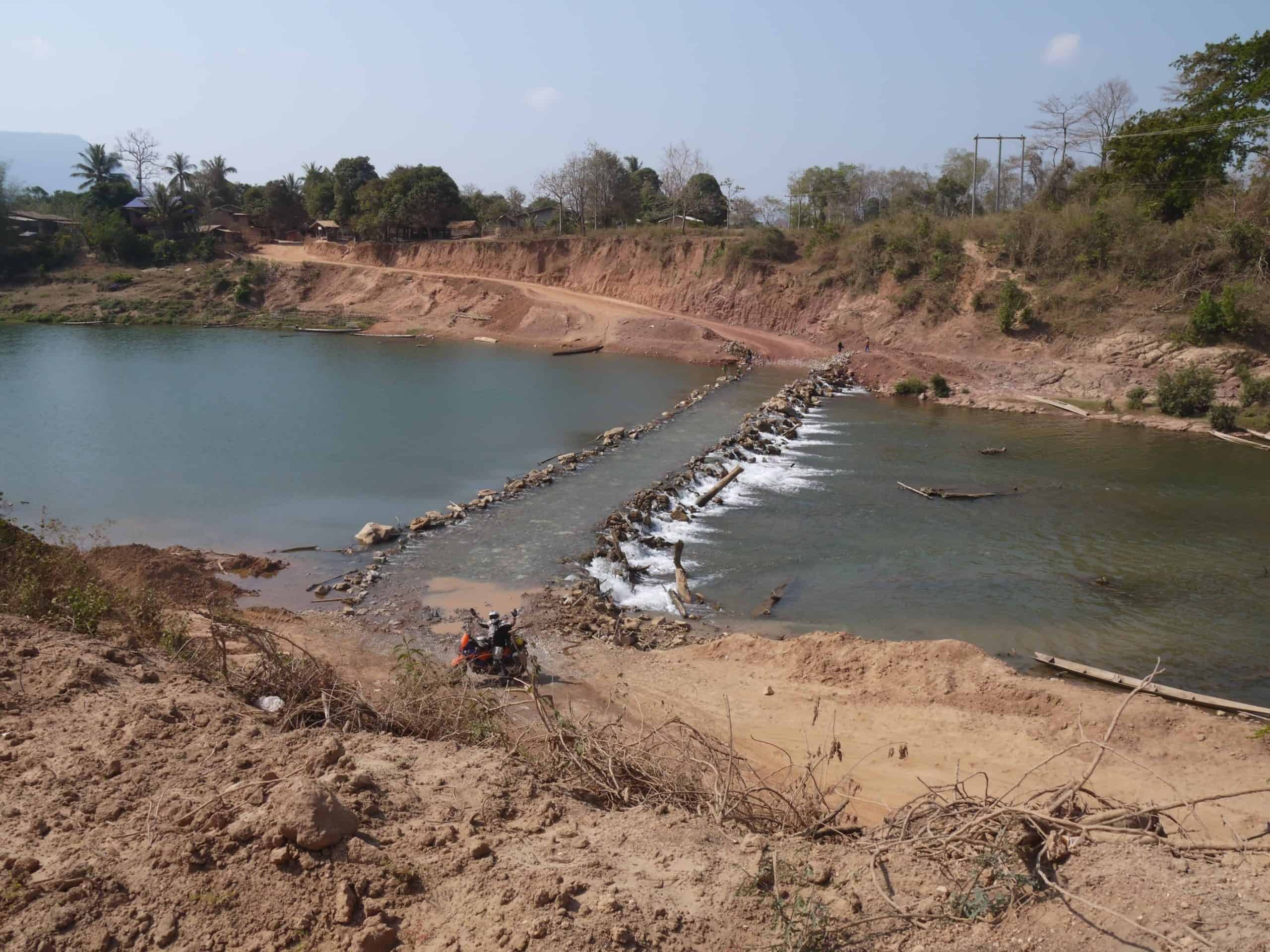 We have crossed this many times. I prefer this to the canoe. It's safer, but if you fall over the bike will get drowned, but better than you drowning, I think. Some places are quite deep, slippery rocks make it harder. And there are some big rocks, by no means a smooth crossing. We had a lot of fun here in the past, the big BMW's were the funniest.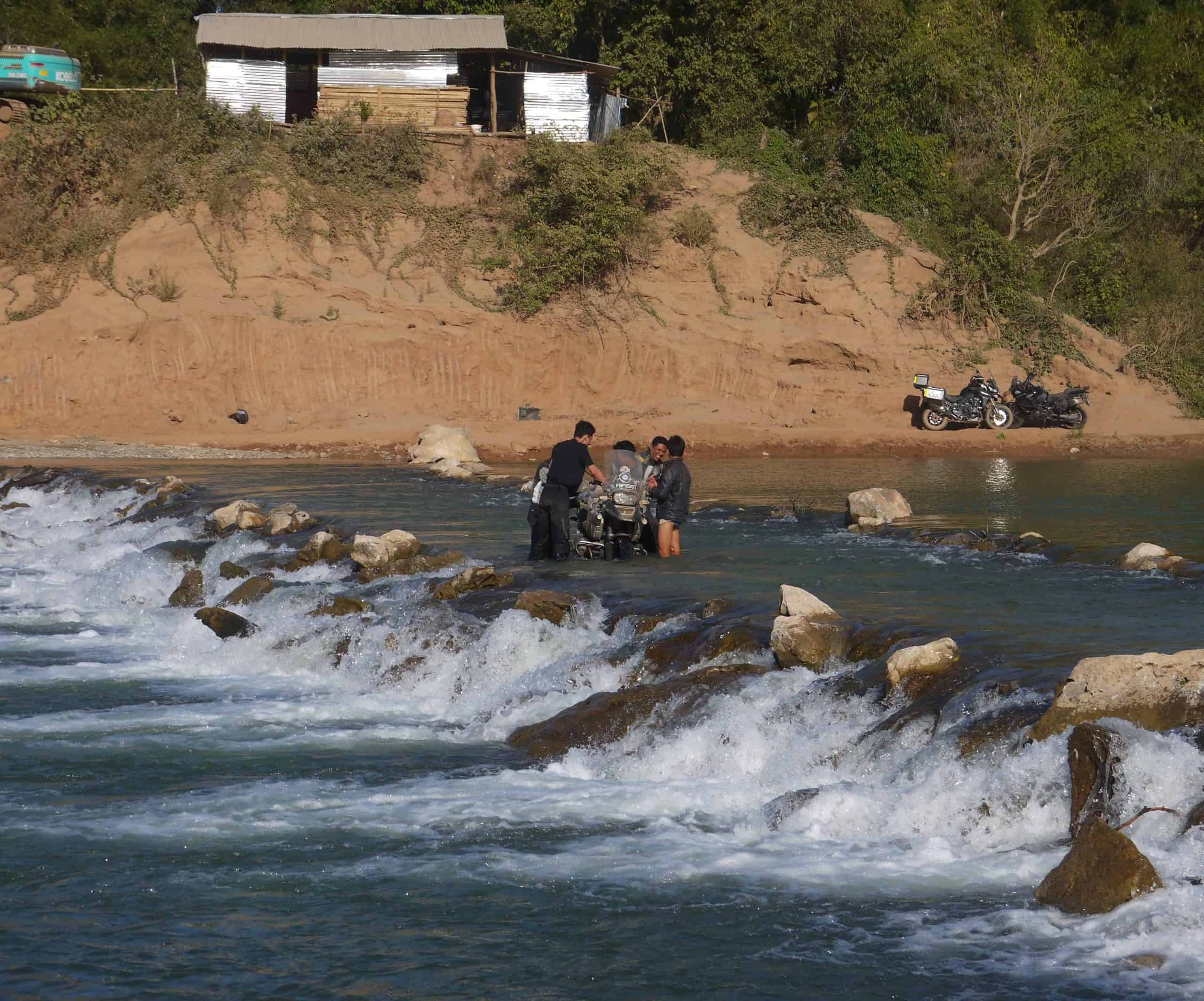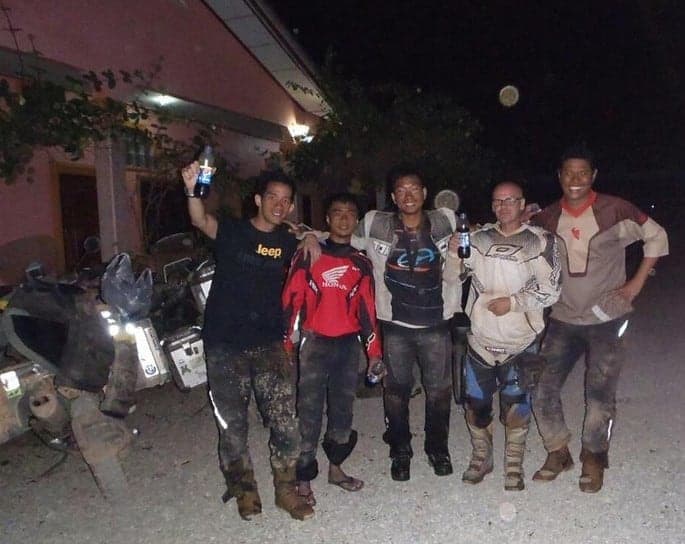 River Crossings Today
Now crossing is much easier. The ford is still there, but ferries run there now. Ferries are very cheap, 20,000 kip, so no need to get your feet wet anymore. Suits me. Around 2017, major works started on the new bridge, but 2018 saw it get damaged by a lot of water. The locals tell me the water knocked the spans of the bridge after the dam collapse near Attapue.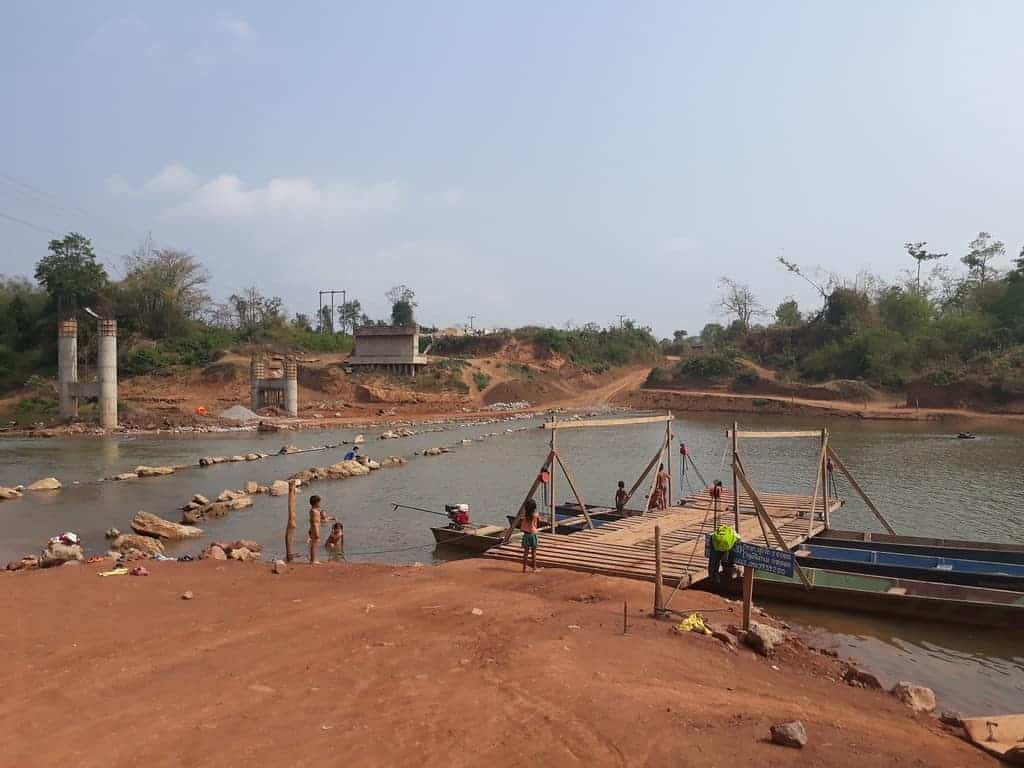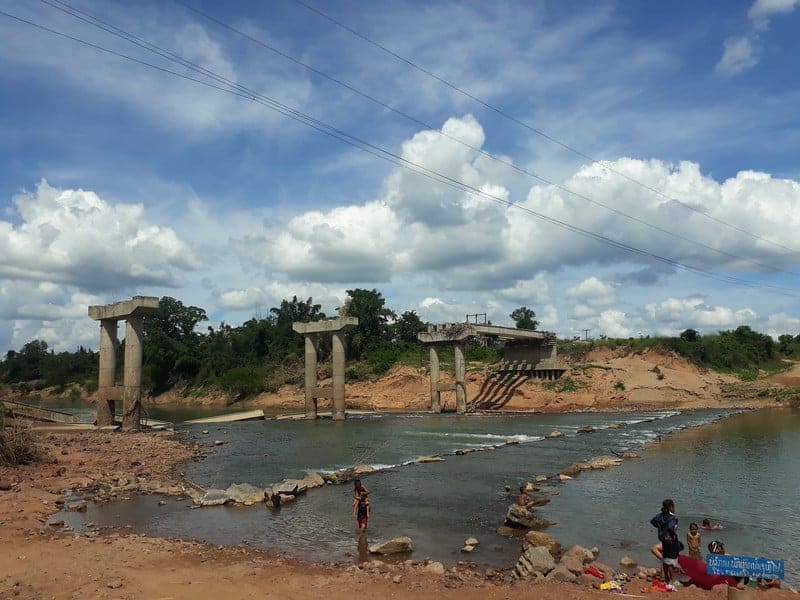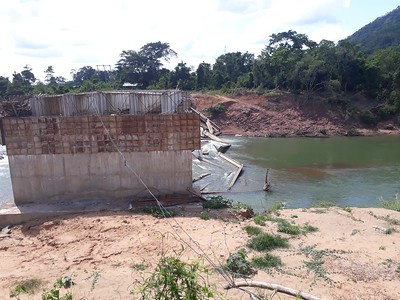 Once you get passed this, a little further up is the next crossing, just as big. It has canoe options as well, but I always ride it. In dry season it's easy. After the wet season, depending on when you come, it can have a lot of water going through it.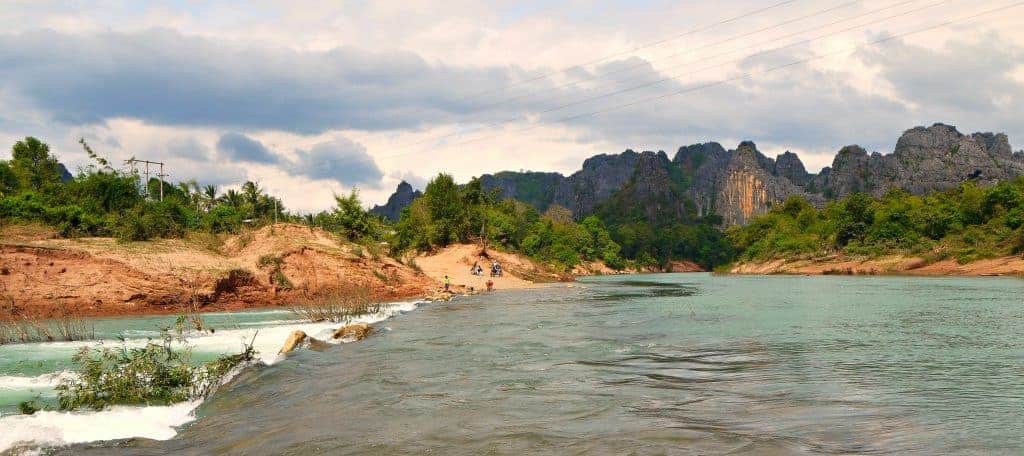 March 2020 this is how it looks at the upper crossing.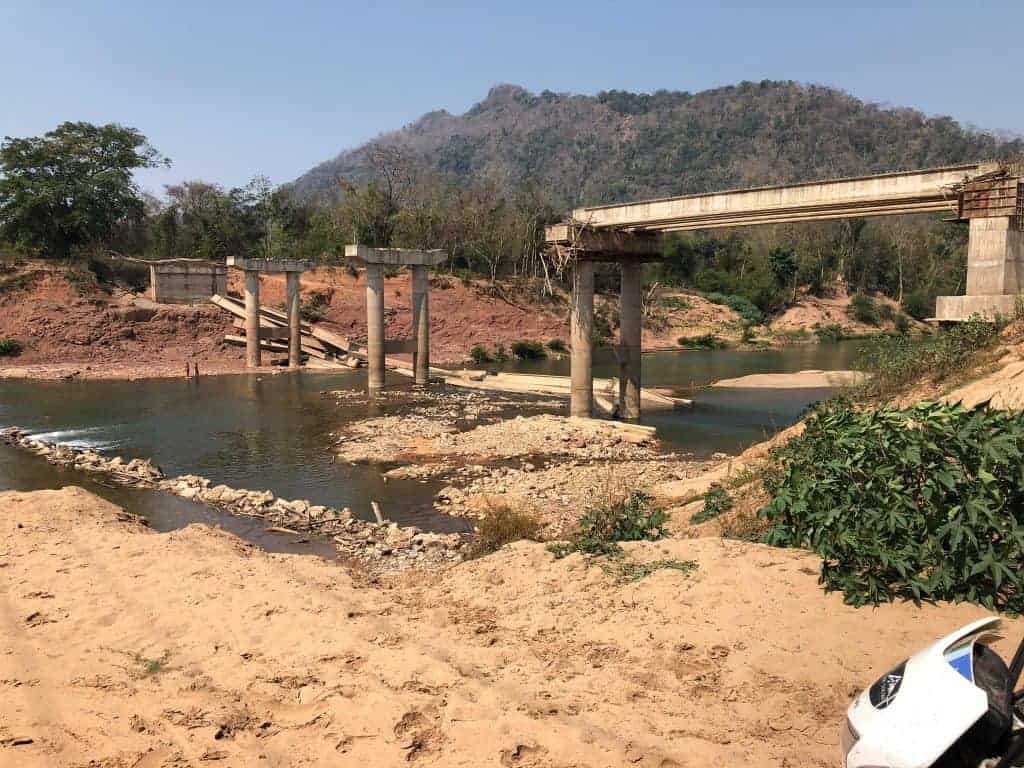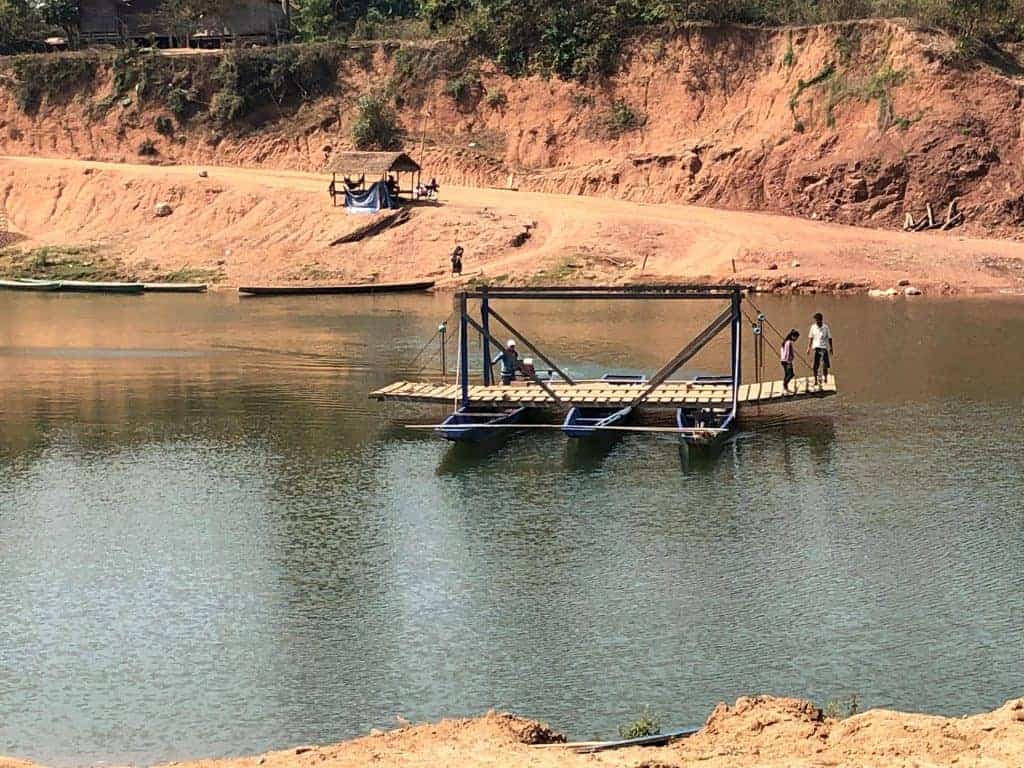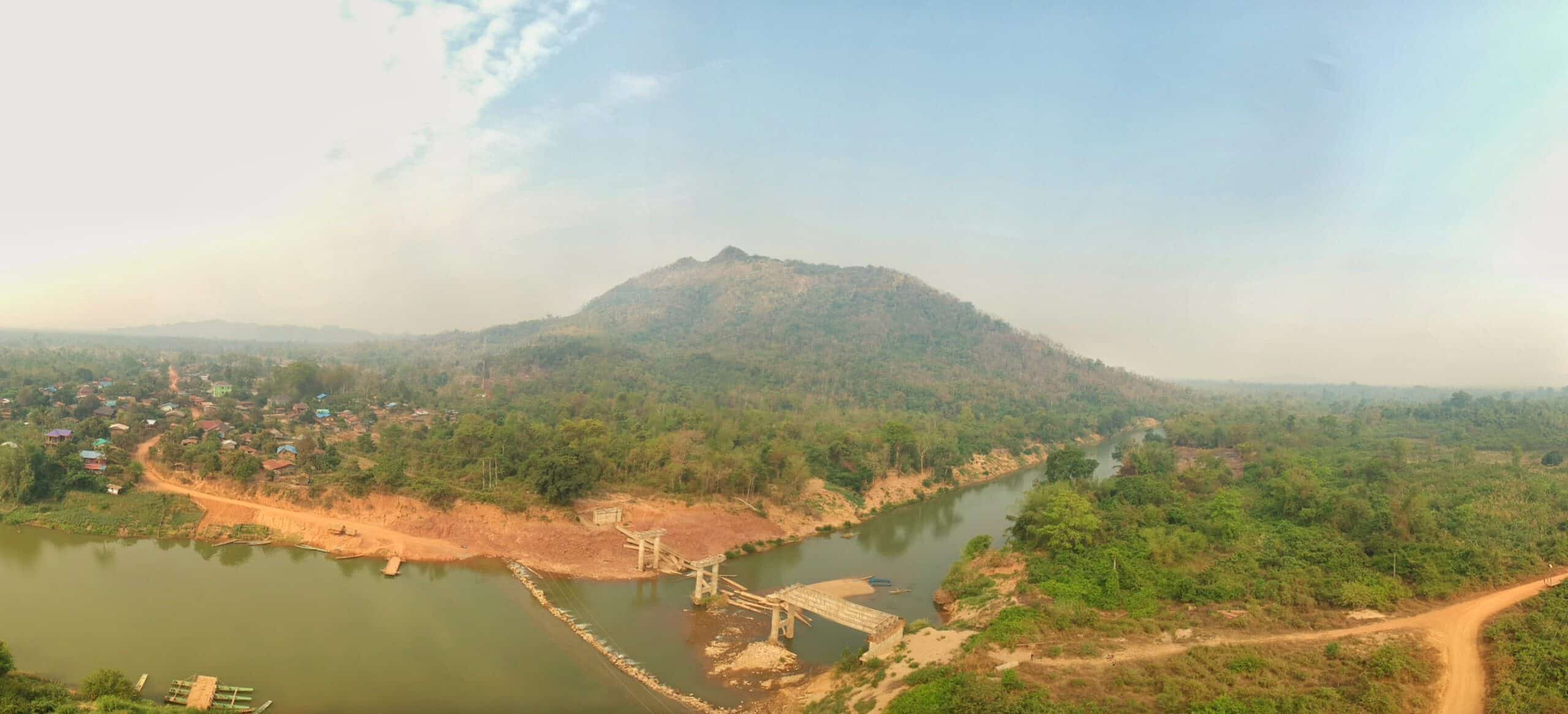 Laos is changing fast, happily not at breakneck speed. Projects like this seem to take years to finish, this one has been work in progress for some time. Once that bridge is finished, it's the end of an era on the trail. We will keep looking for different ways to go south…..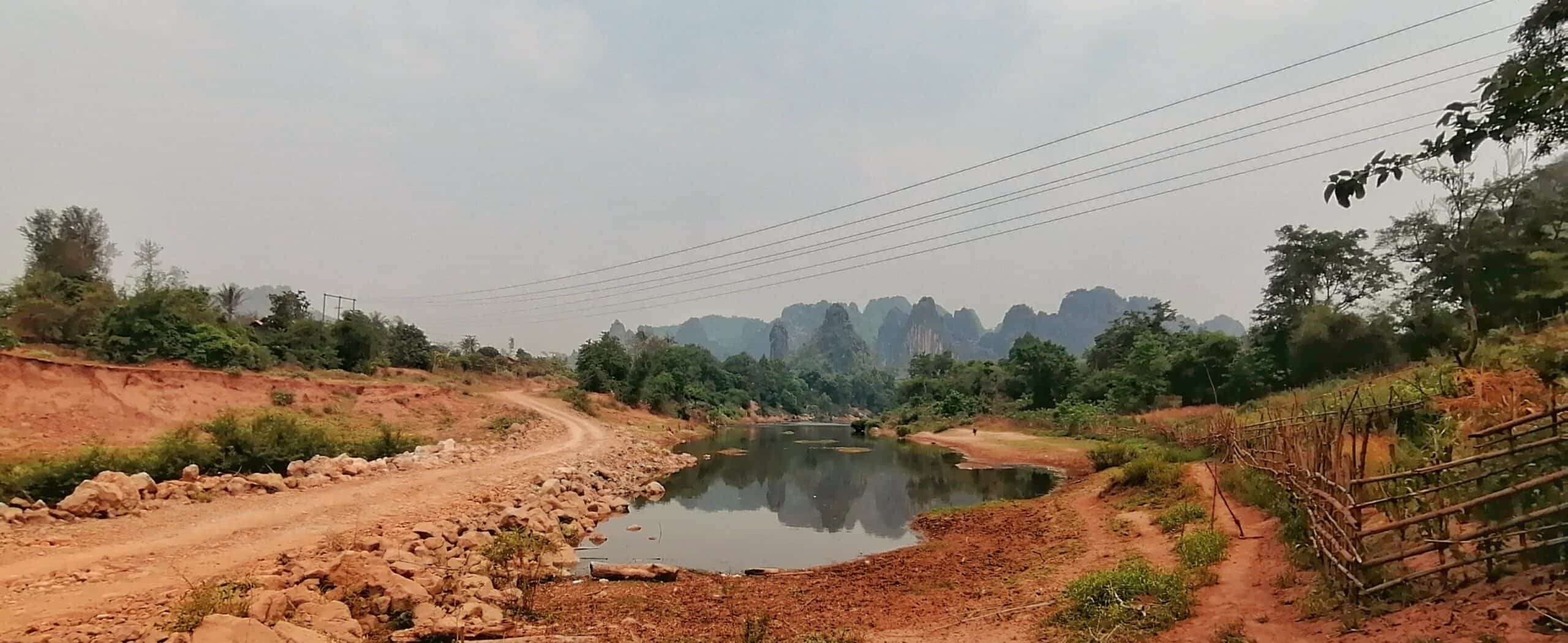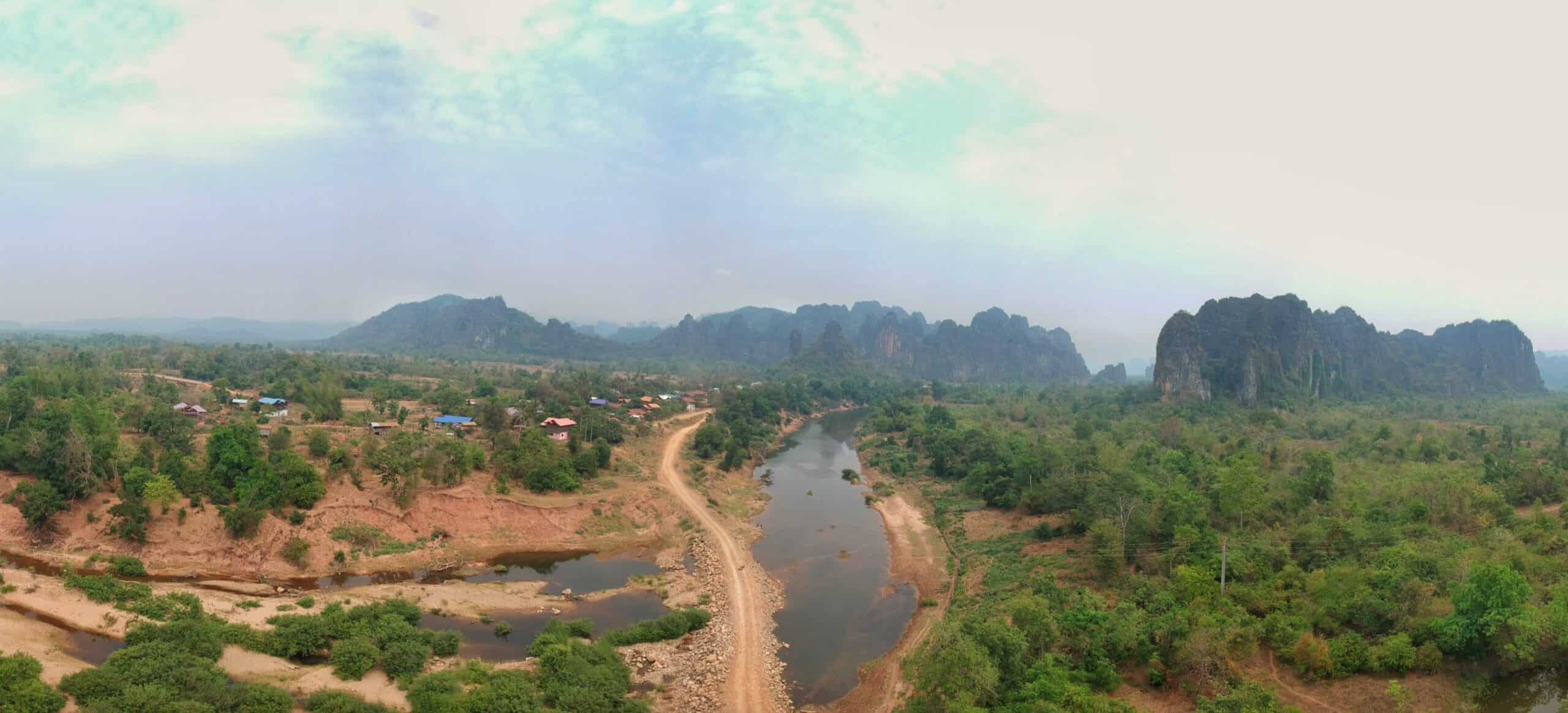 Enjoy this post? Find the rest of our Ho Chi Minh Trail Tales here. Interested in riding in Laos, but looking for  more adventure and less history? Check out our Laos ADV Tours page.